Richard Rembisz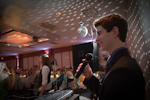 How long have you been a DJ for An Ultimate Sound and a little of your history?
I have been a DJ assistant with An Ultimate Sound since June of 2009. I really enjoy music and seeing the effect it has on people. Music trends are something I have always followed.
Why do you DJ?
I started to DJ because I love music! Music brings people together and I love seeing them have a good time on the dance floor. This is an awesome job that has let me gain new experiences and meet new people.
What are your strengths as a DJ?
My strength is definitely new music. I am constantly looking and listening to the top songs on I-tunes, looking at the Billboard charts and listening to all the popular radio stations. I always know what's new and fresh!
What else should we know about you?
I like songs from all genres of music depending on my mood. I listen to everything from The Steve Miller Band to Green Day to Eminem to all current Top 40. I am a fan of the outdoors, playing sports, fishing and working out! One of my hobbies is playing the guitar. I am also Eric's first cousin and he is teaching me everything he knows about being a DJ!
> Go back to main "Meet the DJs" page